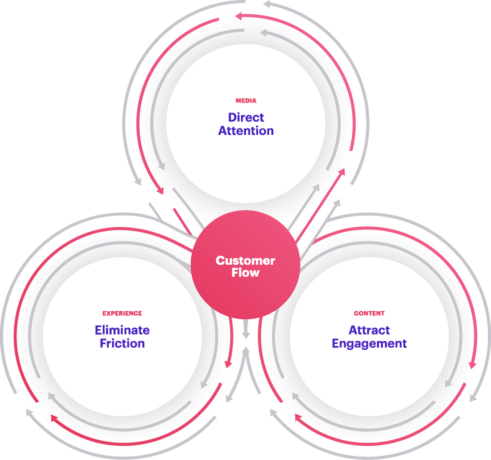 We're focused on customer flow
.
Our approach to flow for your customers is about optimising three key elements your customers. Firstly, we remove frictions in the experience. Then, we direct their attention with precision media. Finally, we attract engagement with relevant, dynamic content.
Experience
Eliminate Friction
Our approach to Flow is all about delivering the best possible consumer experience. If there is friction in the customer journey, we identify and address it, delivering the consumer exactly what they are looking for.
Our Flow model ensures that we're using the right media, on the right channel, at the right time. Your customers aren't constrained by channel silos, so neither are we.
Content
Attract Engagement
Flow is about delivering content that is relevant, focused and engaging. Whatever the consumer need or intent, we aim to deliver precisely the right content.
Performance marketing that's designed for customer behaviours, not channel silos
.
Keep up to date with
Our latest digital insights
.
Want to get started
?
Let's talk about how we can help you improve customer flow and enhance your marketing effectiveness.
Get in Touch